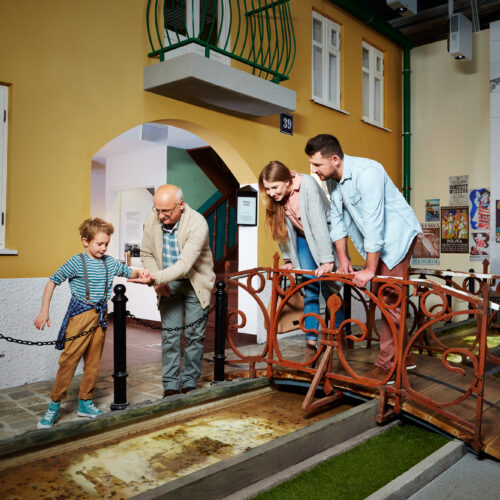 Centrum Historii Zajezdnia
An unusual place where in less than two hours you will get to know 70 years of Wrocław's history.

Get ready for a walk through the streets of the staged city: start your journey from a pre-war tenement house, go through the tunnel, pick up a document for a ride in a freight car, visit an empty butcher shop from the times of the People's Republic of Poland, get on your bike and take part in the Peace Race, look into Tadeusz Różewicz's drawer and see what the world of the anti-communist underground looked like.
Centrum Historii Zajezdnia is a place whose main aim is to disseminate knowledge about the post-war history of Wrocław. The story presented in Zajezdnia is a story about people.
Here everyone – small and large – will find something for themselves:
main exhibition "Wrocław 1945–2016" – an interactive scenographic exhibition enriched with thousands of photos, audiovisual materials and original and unique exhibits, that makes visitors feel like they are traveling in time
temporary exhibitions, e.g. "Leonardo da Vinci's Machines" (until 15 May 2022),
guided tours for organized groups,
numerous workshops and activities for children such as "Bajkowe Poranki( "Fairytale Mornings"), workshops on creating templates, screen printing workshops,
offline and on-line competitions,
summer cinema – open-air film screenings in July and August,
museum shop, where you can buy souvenir gadgets, books and comics related to the city of Wrocław and many other attractions.
All current information on the www.zajezdnia.org website.
# Tu zaczyna się Wrocław! (#This is where Wroclaw begins!)