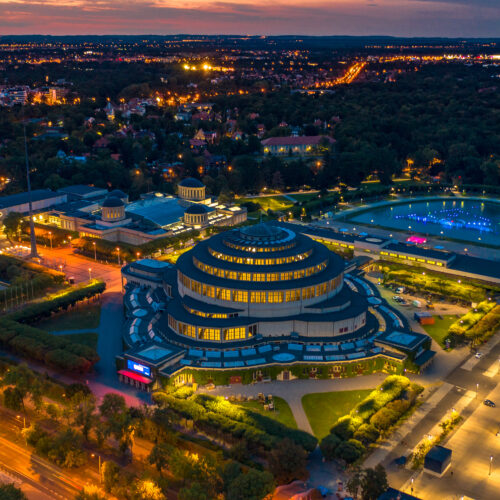 Hala Stulecia
The pearl of modernism, the cathedral of democracy, the most important meeting place in Wrocław. The historical Centennial Hall complex is comprised of multi-functional and modernised facilities adapted to meet modern requirements: the Wrocław Congress Centre, Pergola with the Multimedia Fountain and the Square under Iglica.

The entry of the complex on the UNESCO World Heritage List in 2006 confirmed the special status of its facilities, which are a hallmark of the modern Lower Silesia and Wrocław.
The organizers of the biggest and most interesting cultural, sports and business events seek to rent these unique spaces and can count on professional support, including in the areas of planning, support staff, catering and stage technology. The multitude of amenities makes it possible to adapt the space to the most creative and unconventional expectations. It's an ideal place for both mass events attended by thousands and small-scale gatherings that require a unique setting and atmosphere.