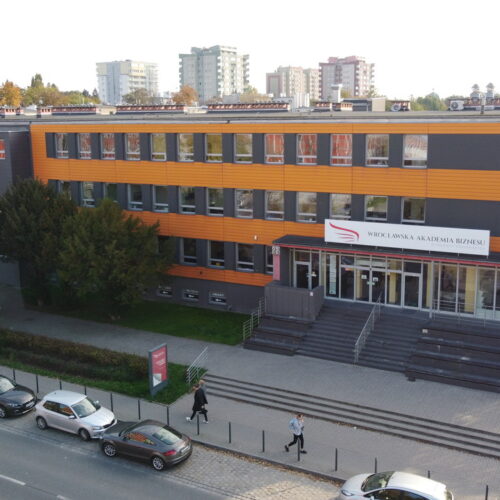 Wrocławska Akademia Biznesu w Naukach Stosowanych
The Wrocław Business University of Applied Sciences (formerly WSH in Wrocław) is a non-public university with a business profile. We have been operating since 1997, and since 2014 we have been part of the dynamically developing Vistula University Group. In 2022, we obtained the status of the Academy of Applied Sciences, thus upgrading the University's profile.

Our mission is to prepare students for business careers, educate in a practical way, internationally, and at a high level. The curriculum of each course of study focuses on learning through practice, therefore attractive workshops, practical classes and internships, which constitute approximately 70% of the didactic program, are scheduled for students. Internships take place in many prestigious companies, and the workshops at the University are supervised by experienced and knowledgeable industry professionals. The teaching staff at the Wrocław Business University of Applied Sciences are an outstanding group of practitioners who have numerous scientific achievements and international experience. The building of the University is conveniently located at 22 Aleksandra Ostrowskiego Street, near the Grabiszyński Park. The building boasts fully disabled access, modern classrooms, multimedia computer laboratories as well as a VR room.